I thought I would do something a little different today. I could still go strong with the Rainbow Paint Party shenanigans, but I've been dreaming about rainbows. Seriously. Figured I would spice things up (literally) and do a WIAW post with Jenn from Peas & Crayons. Rainbow Paint Party details will continue tomorrow.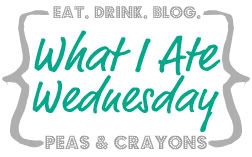 I start my days way too early for my liking. My husband and children think that 6am is a completely normal time to be up and ready to start the day in a good mood. Those "early to bed, early to rise" types. I need coffee, black. Preferably iced since it's so flippin hot outside. My brain doesn't function well that early, so there are no pictures of said coffee. It was in a plastic cup with round ice cubes. Real fancy. Guess you'll just have to deal with a pretty picture of a cappuccino I had on vacation. Sorry.
I make my usual breakfast smoothie and take my vitamins once the coffee has had time to kick in. I can barely get my brain to work, so getting my camera was out of the question. You get iPad quality pictures. Forgive me.
Shortly after this, I baked a 6 layer rainbow cake for the oldest minion's party and froze that bad boy. Then made 2 batches of oatmeal scrubby soap. I wanted to stuff my face with cake so badly and the soap smelled good enough to eat. I opted for a handful of nuts instead.
This particular day was a miracle. I had two napping kids at the same time…. which never happens. Ever. I should have napped also, but I had work to do. I edited a ton of photos, added clips to an awesome video for my 2013 client's, and made kimchi quesadillas. As a matter of fact, I've had these everyday this week. I have a problem. A tasty problem.
Once the kiddos were awake. I cleaned up the wreck that was my house. Turned on some Songza and rocked some serious dance moves for my kids. Sometimes they think it's hilarious. Sometimes not. This particular day my oldest covered her eyes and begged me to stop. She's not a fan of the
Sloppy Swish
. And yes, I do this every afternoon, M-F. I may or may not have eaten a few rogue Cheerios off the floor while playing with the kids. I blame the baby. I sweep 3-4 times a day, so the 5 second rule is extended to 5 minutes. Dinner was "Faux-fredo" with bacon and peas. Everyone was a fan. No time for a real camera because my family wasn't going to wait.
No after dinner snacks. Just water. I have to stay hydrated for all the internet "window" shopping I do after I put the kids to bed. I promised all my FB friends the kimchi quesadilla recipe ,so I'm going to tack it onto the end of this post. If you haven't heard of kimchi before, it's spicy fermented veggies (usually napa cabbage) and is a probiotic powerhouse. Just Google kimchi + probiotics and be prepared to be blown away. You can find kimchi at any Korean grocer or at many Asian markets in the states. Don't buy the stuff that comes in small glass jars available at most chain grocery stores (Publix, Albertsons, etc). That is garbage. Don't do it. Tastes terrible and has none of the beneficial probiotics. #endrant Part of my journey to a
healthier gut
(not talking about my mom muffin top) is to incorporate natural probiotics into my diet. Stuffing my face with kimchi sounds like a good plan.
Ingredients:
1 10inch flour tortilla
1/2 cup monterey jack blend shredded cheese
1/4 cup cabbage kimchi (chopped)
1 TBL cilantro (chopped)
Steps:
1. Heat your tortilla in a large skillet. Flip it over and sprinkle a 1/4 cup of cheese onto half of the tortilla.
2. Top the cheese with kimchi, cilantro and the rest of the cheese.
3. Fold over the other half of your tortilla and brown the quesadilla to your liking.
4. Serve with a Sriracha Lime Sauce (sour cream, sriracha, and fresh lime juice). Enjoy!
Copyright secured by Digiprove © 2014